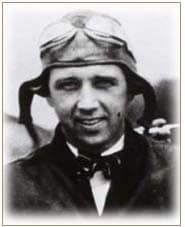 Named for John Paul Riddle's entrepreneurial partner and Embry-Riddle's cofounder, the T. Higbee Embry Society recognizes donors with lifetime and/or planned gifts of $100,000 or more.
This list reflects cumulative lifetime and planned gifts to the university as of June 30, 2019. Individuals marked with an asterisk are deceased.
Corporations and Foundations
AAR Corporation
AlliedSignal Air Transport Avionics
American Airlines
Associated Aviation Underwriters
Aviall
Aviation Education Foundation
Edward T. Bedford Foundation
Braniff Silver Eagles Charitable
Brown & Brown Insurance
Cessna Foundation
Cobb & Cole
Combined Federal Campaign
Command Medical Products
Computer Presentations and Training
Consolidated-Tomoka Land Company
CSG Enterprise
Dassault Falcon Jet Corporation
Tine W. Davis Family Foundation
Tom Davis Fund
Daytona Aerospace Industrial Park Joint Venture
Daytona Mitsubishi/Kia
Delta Air Lines
DS SolidWorks
Embry-Riddle Board of Visitors Association, Daytona Beach
Equis Financial Group
FedEx Corporation
Florida Independent College Fund
Florida Power & Light
Follett Higher Education Group
GE Foundation
Giles Electric Company
Gulfstream Aerospace Corporation
Halifax Paving
Honeywell International Foundation
International Order of Characters
International Speedway Corporation
ISTAT Foundation
Harold James Family Trust
J. W. Kieckhefer Foundation
Kresge Foundation
Bill & Moya Lear Charitable Foundation
Link Foundation
Lockheed Martin Corporation
MAG Aerospace
Marmot Foundation
Mead Witter Foundation
The Miami Foundation
Mission Air Support
Northrop Grumman Corporation
Amelia Peabody Charitable Fund
Procter & Gamble Company
Professional Food Service Management
Ray Foundation
The Robertson Foundation
Robinson Helicopter Company
The San Diego Foundation
Sodexo
Tecnam Aircraft
Textron Aviation
The Albert L. Ueltschi Foundation
United Technologies Corporation
Universal Helicopters
US Airways
The Wells Fargo Foundation
The Wings Club Foundation
Alumni and Friends
George and Patricia Adam
Bob and Carol Allen
John Amore ('73)
Peg Billson ('84)
Estate of Virginia T. Bingham
Estate of Hyman L. Bloom
Robert and Amy Book
Benjamin ('82) and Signe Canfield
Lawrence and Barbara Clarkson
Elizabeth Coley* and William Smith*
Victor and Betsy Cresenzo
Guy and Mary Damore
Teresa Delafosse
Linda Downs
Philip (HonDoc '04; '72) and Joyce* Elliott
Michael ('69) and Jacqueline Fitch
William* and Betty Jane* France
Rudy and Lucille Frasca
George and Helen Gallaspy
Albert and Toni* Helfrick
Thomas Higgins Jr.*
John and Lynda Hodgson
Louis* and Dava Hoffman
Russell Holderman (HonDoc '74)*
Daniel and Diane Izard
Sharon Jones ('84)
Pamela and Gale Jose
Jesse C. King and Tanya Wise King
Moya Lear*
George Lerman*
John ('81, '84) and Judith Longshore
Betty MacDonald
William March ('81)*
Barbara and Carl Martens
Joe Martin ('74) and Solange Albuisson Martin
Joseph McClure
Robert McKay*
George Mendonca*
Estate of Louisa Morse
Richard ('86) and Denise Nisbett
Emily and Thomas Nissley
James and Janet O'Connor
William* and Dixie O'Connor
Quentin* and Jeani* Pearson
James and Sherry Raisbeck
James Ray*
Nancy Robertson*
James Robinson*
Jean and Genevieve Rosanvallon
David and Yolande* Salter
Michael Schiffman
Roger and Barbara Schwarz
Christine and Louis C. (H '07) Seno Jr.
Raymond and Frances Sigafoos
Al Skeaney*
David and Toni Slick
Steven (HonDoc '06) and Nancy Sliwa
Lee Spence*
Estate of Mary Spence
Thomas* and Barbara Staed
Estate of Druria L. Sylvester
Maurice* and Dorothy* Taylor
Albert Ueltschi (HonDoc '97)*
Lawrence* and Virginia* Vagnozzi
Pantelis ('86) and Cleo Vassiliou
Charles Vouaux*
David ('82) and Rebecca Wallenborn
Estate of Ann R. Weaver
Wayne Webster ('98)
Alexander and Mary Wells
Nancy ('81) and Roger Wingert
R. Lyman (HonDoc '96) and Leslie Wood
Gertrude Worthington*