Message from the Dean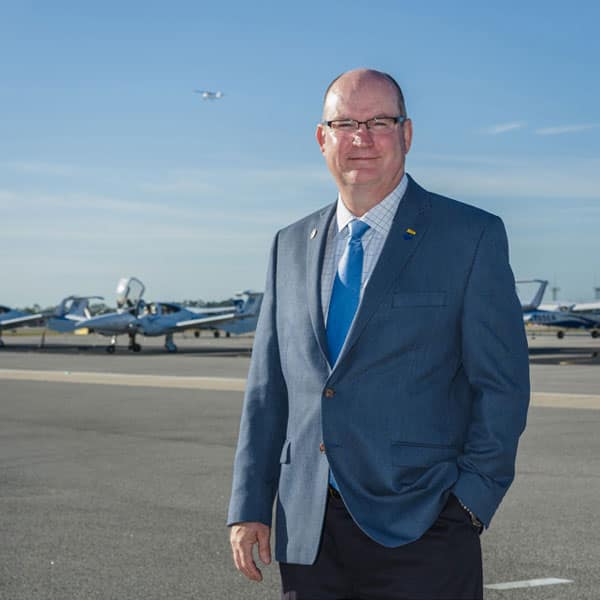 Dr. Alan J. Stolzer
I would like to welcome you to the first edition of the Dean's Impact Report for the College of Aviation, Daytona Beach. As the University moves to improve our culture of philanthropy by emphasizing the importance of stewardship, as well as transparency, I invite you to learn more about how your support for the Dean's Fund for Excellence has helped improve the college in myriad ways.
Moving forward I intend to produce this report each quarter; this inaugural report encapsulates the first two quarters of this calendar year.
In reading this report, I hope you will discover something new about the tremendous success we are having in student accomplishments and faculty productivity.
We are enjoying the most dynamic time in the world of aviation in my career, and it is exciting for all of us. Our college is making great strides in the areas of research and scholarship, diversity, and technology adoption and development in order to ensure that Embry-Riddle remains the number one college of aviation in the world.
Whether you have given in the past or are a long-time donor to the Dean's Fund for Excellence, I want to express my sincere appreciation for your support. The college would not be where it is today without your generosity!
Following are a few highlights from a long list of accomplishments in the college since January 2019.
Your Giving At Work
---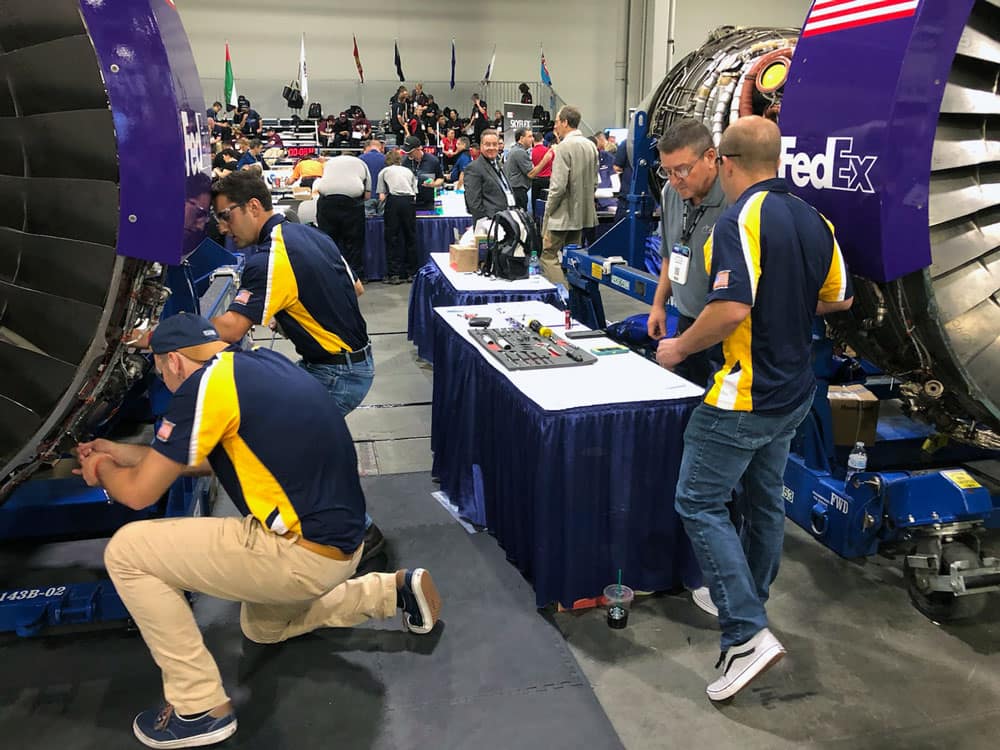 AMS takes first place in international maintenance competition
Eagles ace global aerospace maintenance competition
By Melanie Stawicki Azam
An Aviation Maintenance Science (AMS) team from Embry-Riddle claimed first place in an international competition, overtaking challengers from 27 other schools by more swiftly and accurately completing 30 timed tasks.
Six undergraduate students participated in the 2019 Aerospace Maintenance Competition, organized by the Aerospace Maintenance Council and presented by Snap-on Industrial, April 9-11, 2019, in Atlanta, Georgia.
"Thanks to the exemplary training Embry-Riddle provides to its students, we can see the future of aviation maintenance is in good hands," says Bart Wignall, president of Snap-on Industrial, in an award letter to the team.
"We are proud of our students for their technical performance, as well as their sportsmanship," says Embry-Riddle President P. Barry Butler. "They exemplified the Eagle spirit, demonstrating the highest standards of aviation safety and responsibility."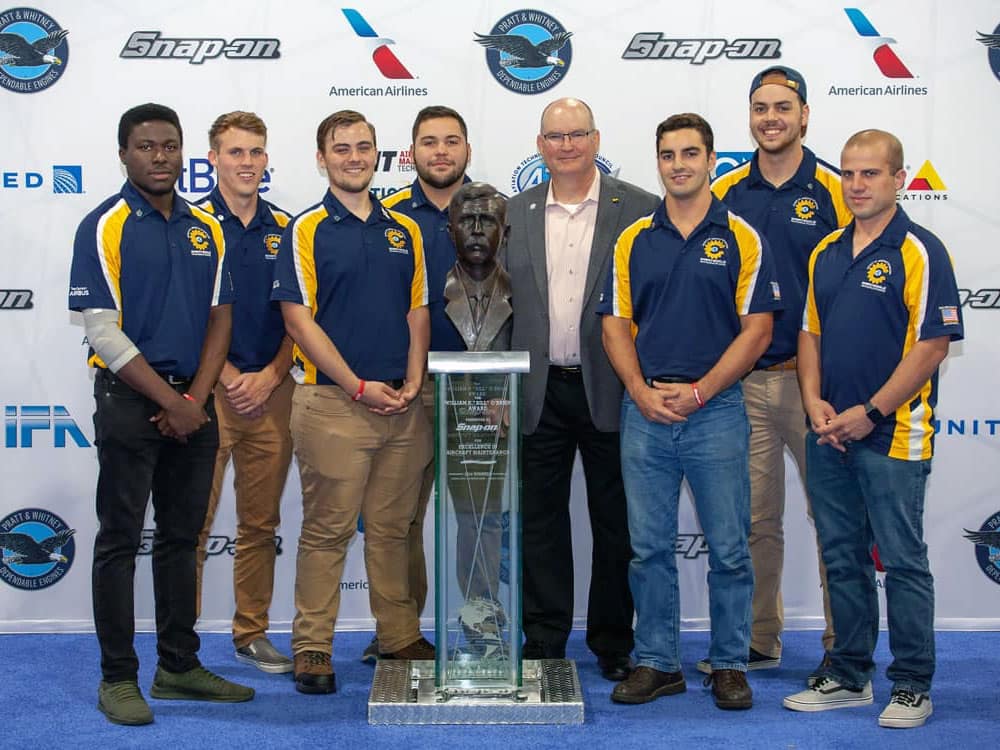 In addition to winning the No. 1 ranking in the competition's School Division, two students on the Embry-Riddle team won individual awards. Ben Henriquez won an AMC Professionalism Award and Immanuel Bankole secured a Future Maintenance Professional Award, a scholarship provided by PistonPower and the trade association PAMA.
The other winning AMS team members were Tristan Anderson, Christopher Lambert and Chris Culver. Greg Algarin served in a critical backup role.
"It was an outstanding learning experience for our students," says Chris Piccone ('11, '18), laboratory instructional specialist, who managed and coached the team, along with Earl Sault Jr. ('98), AMS training and supply specialist. "This year, they were exposed to advanced, modern tools and top-of-the-line diagnostic equipment."
The 2018 Boeing Pilot & Technician Outlook estimates a worldwide need for 754,000 new aviation maintenance technicians over the next 20 years. Exhibitions such as the Aerospace Maintenance Competition help raise awareness of the importance of aviation maintenance technicians, Piccone says.
Embry-Riddle's participation in the competition would not have been possible without generous travel support from Airbus, as well as advance practice time at JetBlue's training facilities.
"We are very grateful for their support," Piccone says.
---
Eyes in the Sky
UAS students support disaster relief in Oklahoma study program
By Melanie Stawicki Azam
Unmanned Aircraft Systems students got hands-on experience this summer using drones to support local emergency responders covering tornadoes and flooding in Oklahoma.
"We started out in Oklahoma City and then went to different areas of the state where there were threats of severe weather and flooding," says John M. Robbins, who is an associate professor and the Unmanned Aircraft Systems program coordinator. "[The UAS data] helps with rapid disaster response and resource management."
Now in its third year, the study away program, held May 14-June 2, included a week of training in Daytona Beach, Florida, followed by fieldwork in Texas and Oklahoma. Robbins and Billy Rose, who is the UAS program's simulation and technology manager, led the six students. This is the third year the summer program was held.
"I think that the trip gives them practical experience, and it allows them to work with a community-based project," says Robbins. "We just started a minor in public safety last year."
Students operated DJI Phantom 4 Pro drones, which are capable of taking video and still images. They sent the local Emergency Operations Center (EOC) a live video feed of what was happening in an area that was flooding or otherwise affected. Facilities, like dams, could also be monitored and assessed.
"This year, there were circumstances that lead to an extraordinarily active tornado season. We were able to survey a variety of sites," Robbins says. "We support these events after they happen."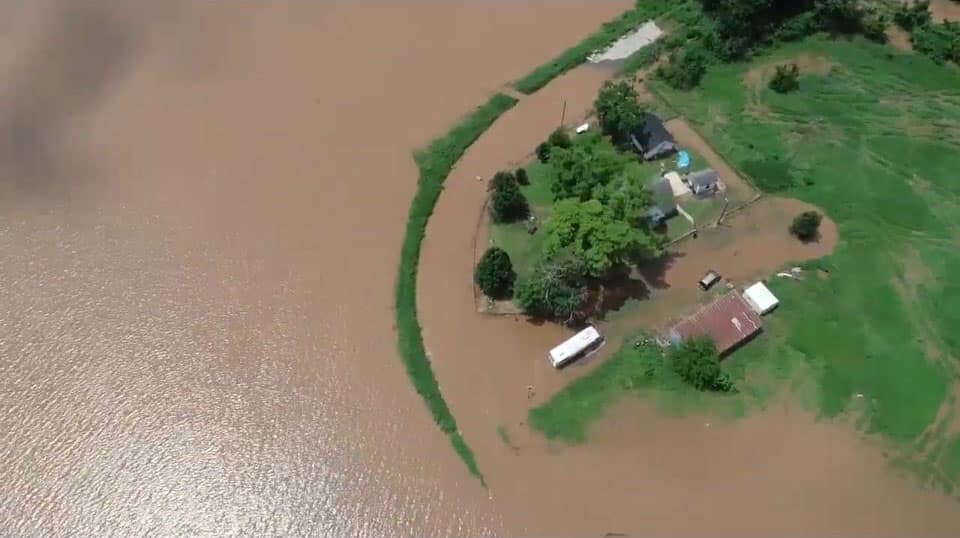 One large and powerful tornado decimated part of El Reno, Oklahoma, on May 25, he says, and the Embry-Riddle UAS team was able to send a 3-D model of the water tower to emergency responders.
Student Joe Santella says the trip gave him an opportunity to assist in real-world natural disaster relief efforts.
"We were able to visit the EOC in Oklahoma City the day after about 20 tornadoes had hit the state," he recalls.
Students also learned the roles and responsibilities related to most UAS operations, he says. For example, each flight conducted included a team of up to six people, acting as a combination of crew chief, pilot-in-command and visual observers. They were trained on proper site survey techniques, basic UAS flight controls, inventorying equipment, and how to conduct a live streaming of the video feed to EOC offices around the state.
"We were given a great chance to gain educational experience while also providing valuable assistance to the state of Oklahoma," says Santella.
---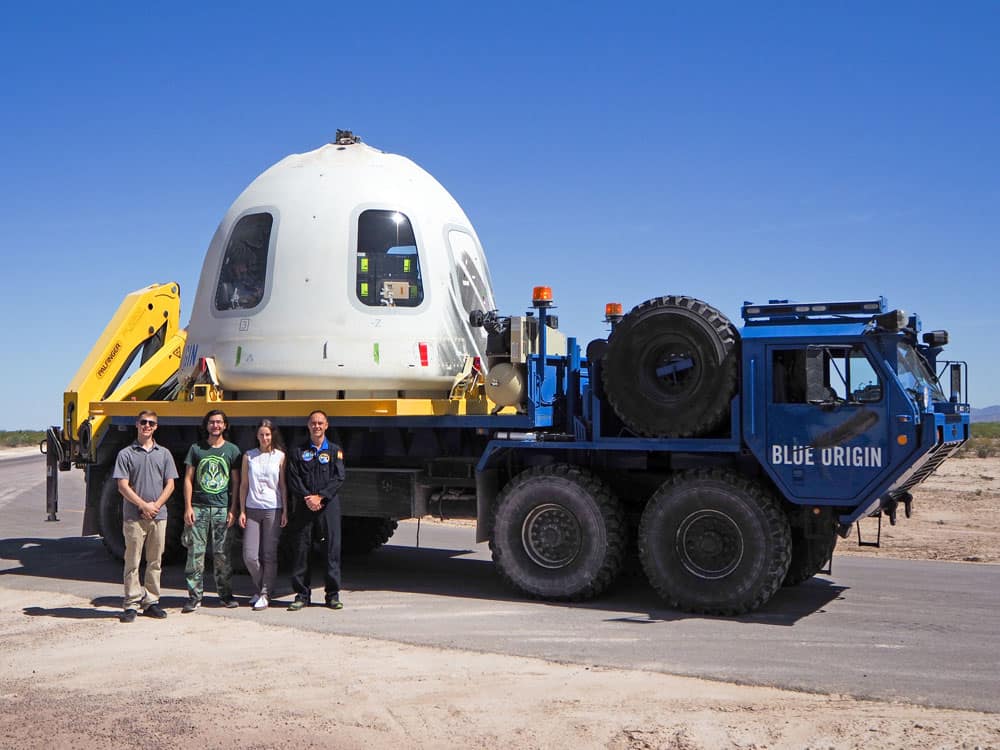 Photo courtesy Blue Origin
Boosting Experience
Project MESSI team launches algae payload into space
By Melanie Stawicki Azam
After completing his last final in May, Dylan Orth went on the ultimate road trip to Texas to watch Blue Origin's New Shepard launch his team's research project into space.
"As an undergraduate, this is something unique to Embry-Riddle," says the commercial space operations student of the rocket launch he witnessed. "It was absolutely incredible. We saw the rocket go up and felt the sonic boom."
As the undergraduate student primary investigator for Project MESSI, Orth was also part of the two-person team that drove to Van Horn, Texas, with a sample of spirulina algae that launched into suborbital space aboard Blue Origin's New Shepard vehicle this spring.
Project MESSI, which stands for Microgravity Experiment for Spirulina as Superfood In-Vitro, received a 2018-2019 Ignite Research Grant from the university. The research looked at the effects of space, like microgravity, on the algae when exposed to different environmental conditions.
Pedro Llanos, who is an assistant professor of spaceflight operations, led Project MESSI and mentored the students working on the team. Llanos is also supervisor of the Payload Applied Technology and Operations Lab and the Suborbital Space Flight Simulator Lab.
The project was the effort of two semesters of work by students in Llanos' Payloads class, as part of the Spaceflight Operations program. Students learned the value of proposal writing and how to design an in-vitro payload into a small NanoLab, which was designed using 3D printer technology.
"I was impressed by the level of commitment that some of my students had in getting this payload ready for suborbital flight," says Llanos. "In the process, these students developed a unique set of skills to nurture and monitor spirulina growth for months, assembled the avionics to monitor the environment and wrote software that helped store the flight data. They will carry these skills with them in their professional careers."
Spirulina algae, which is highly nutritious, is being researched as a possible food source for space travel.
Spaceflight operations student Morgan Shilling worked on the software and electrical engineering on the payload and attended the Blue Origin launch, which gave him a chance to actually interact with people in the field.
"I was very excited to be involved in an actual launch," he says. "It was a physical, real-world experience."
Recent aerospace engineering graduate Kody Kidder ('19) led the assembly of all the sensors in the payload.
"This was my first opportunity to have some creative design experience," says Kidder. "I liked the hands-on work."
He gained practical skills, including soldering hardware and learning how to build circuitry better.
"I definitely got a lot of technical experience, but I think I grew most as a leader by having an opportunity to work with a professional company and be a team liaison," Kidder says. "I learned [that] sometimes, I needed to pull my focus away from what I was doing and tend to the team."
For Orth, the project gave him real-world work and research experience, plus increased his confidence and leadership skills.
"For me, the most important thing I got from this entire experiment is that I know whatever I put my mind to, I can achieve," he says.