Leading supporters of Embry-Riddle express their belief in the value and mission of higher education through their donations. We express our appreciation for their support through our gift societies.
Gift society members are included in Embry-Riddle's annual report and receive special publications, mailings and invitations to special events. Through their support and enthusiasm for our mission, members not only help us maintain the educational programs and the physical components of Embry-Riddle, but also the intangible qualities of a leading university: the sense of community, the respect for tradition, and the recognition of achievement.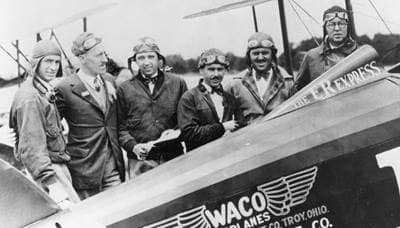 Lifetime Giving Societies
Embry-Riddle established its lifetime giving societies to recognize benefactors who have made substantial commitments of personal resources to sustain and promote Embry-Riddle's mission.

The Legacy Society
By including Embry-Riddle in their estates, Legacy Society members maintain a heritage of achievement that creates success for many generations of our best and brightest.

Philanthropy Impact Report
Each year, Embry-Riddle's publishes its Philanthropy Impact Report, a special stewardship report that recognizes and honors its many supporters. Read the latest on how your philanthropy makes a difference at Embry-Riddle.
When Alex Wells first accepted a teaching job at Embry-Riddle Aeronautical University in 1972, its Daytona Beach Campus was a collection of old military buildings and nearly all of its students were soldiers.
"There was virtually nothing here, just a bunch of WWII barracks," recalls the esteemed retired College of Business faculty member who taught at both the Daytona Beach and Worldwide campuses.
"But I came here in March and the weather was gorgeous, so I said there's no question," Wells says with a smile. "ERAU offered me $11,000 to start, which was half of what I was earning in Chicago."
Wells got his start teaching business aviation at Embry-Riddle and, after a long and successful academic career, he decided that he and his wife, Mary, wanted to give back to the university. The Deland couple made a planned gift to fund the Dr. Alex and Mary Wells Endowed Scholarship to assist aviation business administration students. They said the bequest was easy to make.
"We wanted to do something to specifically help students," Wells says.